FEATURES #01
Speedy diagnosis
Diagnosis time: Min. 2 seconds, Max. 8 seconds.
(Clogging: 2 seconds, leak: 2 or 8 seconds, good: 8 seconds)
The time required for setting and diagnosis differs depending on the conditions, but continuous diagnosis can be completed in a minimum of 10 seconds and a maximum of 16 seconds, which is significantly speedy (shorter than another manufacturer's product by half under our comparison).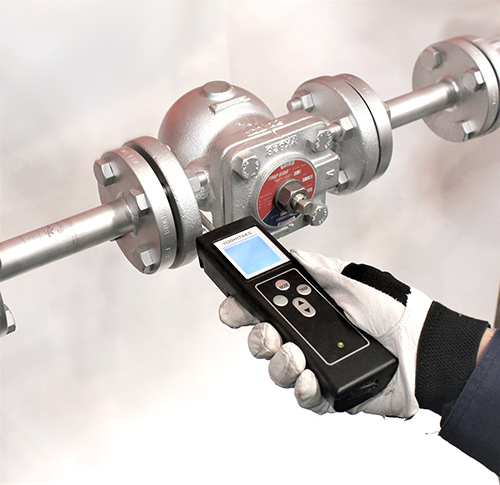 FEATURES #02
Automatic diagnosis
STC-1 automatically diagnose the working conditions of steam trap (Leak/Clogging) by vibration and temperature sensor.
It realizes qualitative judgement, diagnosis and management of steam trap, not being affected by personnel's experience.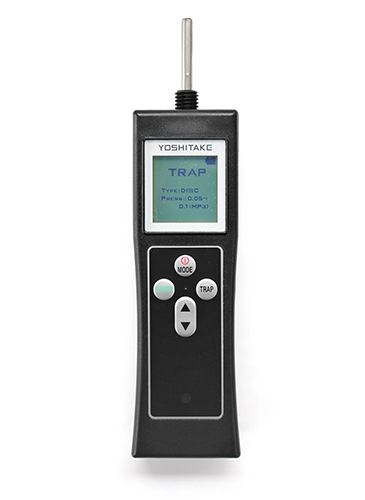 FEATURES #03
Easy operation
The movement distance of the finger is small, easy to operate as button placement. It is possible to hold it with one hand and to operate quickly with one finger. The feeling of pressing the operation button is also firm and easy to understand.
A projection (home position indicator) placed at the center of the operation part surface and the symmetrical button placement enable easy operation by either right or left hand.
The diagnostic setting can be completed by selecting input of two-step operations; 1. the type of steam trap 2. the pressure range of steam used
Consecutive diagnosis is possible without re-setting under the same conditions.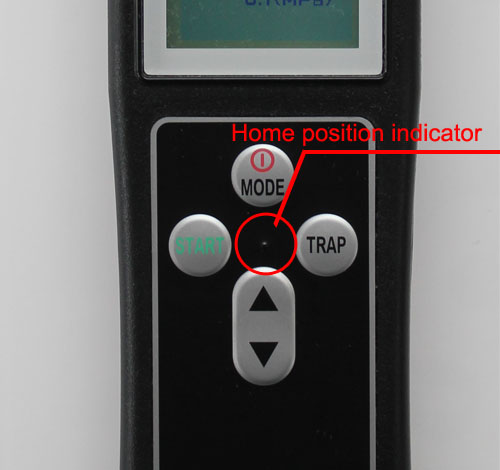 STC-1 Details of operation part
FEATURES #04
Vibration function (Patented)
Start and completion of diagnosis is notified by vibration generated by vibrator like a mobile phone.
Even in a situation where the steam trap is installed, such as dark and narrow places, cannot be confirmed visually on the screen, the vibration of the vibrator indicates the start and completion of diagnosis, leading to work efficiency further.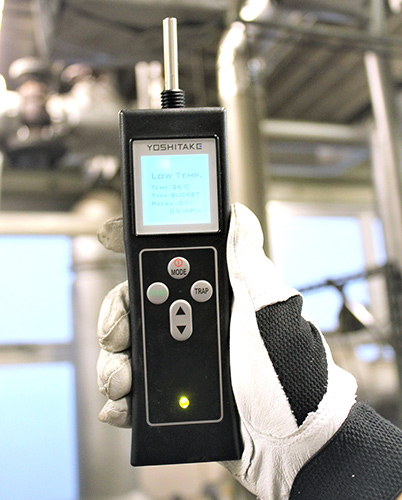 FEATURES #05
LED function
STC-1's unique feature provides diagnostic results with not only on-screen but also on LED color identification.
The color of the LEDs provides an intuitive way to see the results of the diagnosis, which is time saving and more efficient for operators.

FEATURES #06
Switchable functions
STC-1's built-in surface temperature sensor and auscultation modes can be used as arbitrarily, independent of the automatic diagnostics.
Therefore, it is also possible to diagnose by acoustic sense apart from automatic diagnosis.
It provides a more transparent sound quality for a condensate emission from previous diagnostic experience by assuming auscultation mode.
This feature can be used to diagnose not only the operation of the steam trap but also the leakage of manual valves used in bypass pipes by acoustic and whether or not the fluid is ventilated by measuring the surface temperature of the pipes.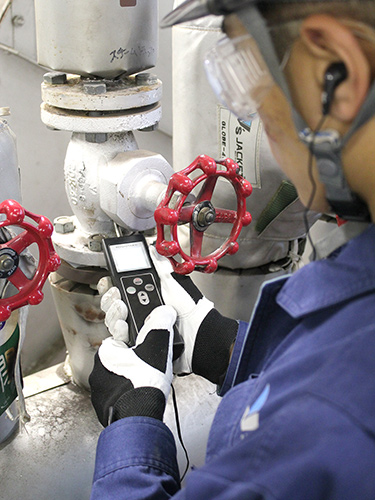 FEATURES #7
Unique Shapes
STC-1 is designed to make it easy to operate with one hand and one finger by embracing a slim shape with a parcel of curved surfaces that are hard to slip and comfortable grip on, realizing a fit while preventing slipping.
The surface is scratch-resistant and design also makes scratches less noticeable.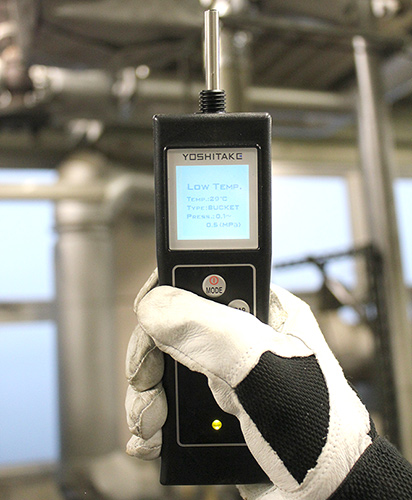 FEATURES #08
Timer function
STC-1 is equipped with a timer function to make a delay diagnosis inspection.
It is able to diagnose by setting a timer to make a delay necessary for inspection of the steam trap installed in narrow, distant, or high places where require the extension bar (such as self-stick of the digital camera), without using a stepladder. *Please use this function only when the sensor top can reach the measurement point.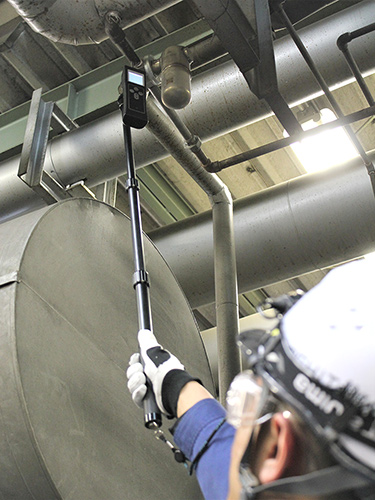 FEATURES #09
Auto power off function
It has an automatic power-off function to prevent the battery from being wasted if the power is left off.
(Depends on the condition and function.)
FEATURES #10
Large LCD screen
The 128×128 large LCD screen provides a clear visual experience,
and it displays working conditions of the steam trap as a time waveform.
The screen display also adopts STC-1's display being particular about the placement of one dot of liquid crystal to be composed, the original font design of Yoshitake that is easy to understand by the customer.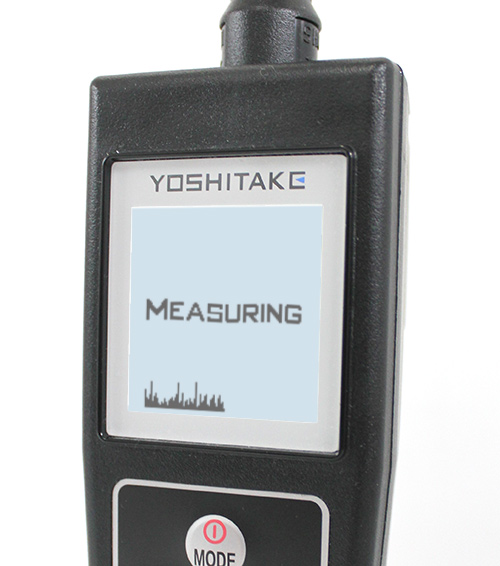 FEATURES #11
Backlight function
It has a backlight lighting function in a normal state, making it easier to see the screen even when working in a dark place.
The battery life when the backlight turns on is 8 hours, but the backlight can also be turned off manually, and it can be used continuously for longer periods of time.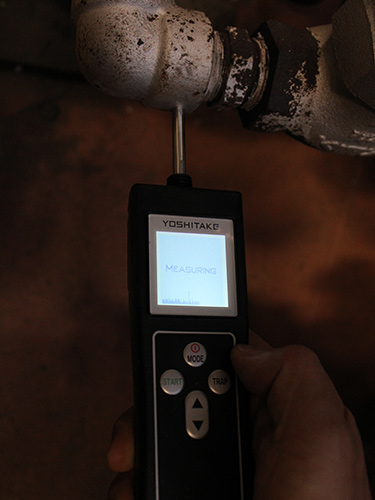 FEATURES #12
Dedicated storage case included
It comes with an easy-to-carry storage case that fits the product.
The unique storage case has two types of band loop: a larger band that can pass through a trouser belt and a small band that is easy to attach and detach through a Carabiner.
It also has pocket that can store earphones and spare batteries and a protection for the sensor top.
It is not just a storage case, and it is possible to store promptly to ensure safety in the actual steam trap diagnosis situation where both hands are blocked, such as a long-distance onsite movement, and the height and the narrow place.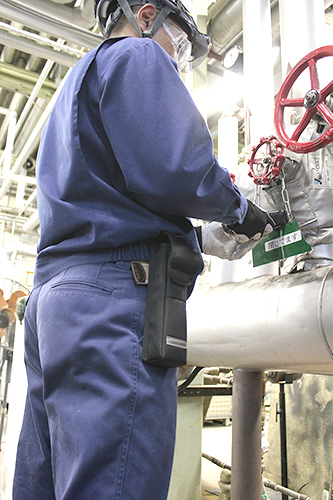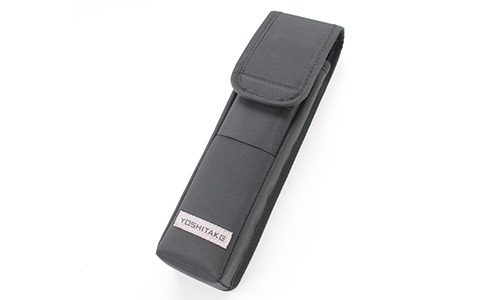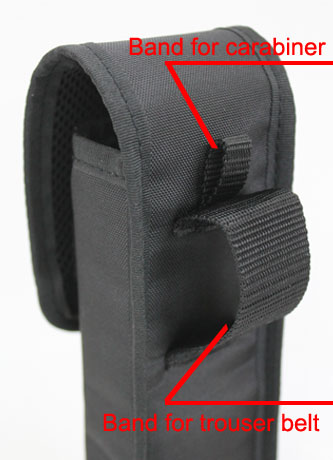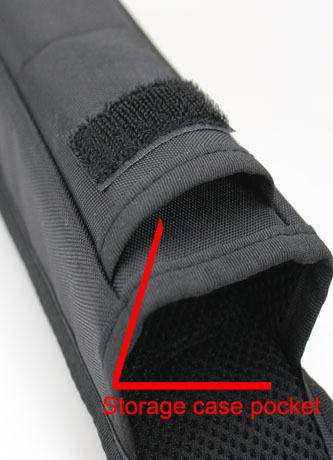 FEATURES #13
Fall Prevention Measures
The sensor cap and the main body are provided with a place where the hand strap can attach.
Please be careful when using long straps such as neck straps because they may be entrained up depending on the site.
(The straps should be prepared by the customer.)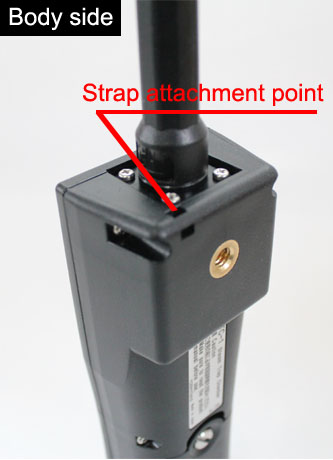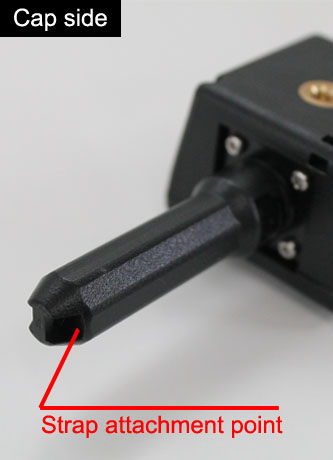 FEATURES #14
Battery compartment
Use DC.15V AAA Alkaline battery.
The battery cover retaining screws are set with the battery cover to prevent loss.
The battery cover retaining screw can fasten with a coin.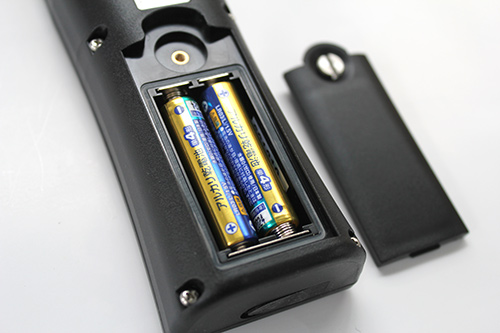 FEATURES #15
YOSHITAKE's Steam Trap Checker
Steam traps are valves in which steam (gas) and condensate (liquid) coexist.
To diagnose steam traps, you need to understand the structure and characteristics of the valve, and the characteristics of each fluid (steam and condensate) passing through the valve as well.
STC-1 was created by know-hows accumulated through long-term experience of Yoshitake, a self-actuated valve manufacturer who developed and manufactured self-actuated valves such as pressure reducing valves and safety valves which control fluid, diagnosing the steam trap for clients and technology cultivated through the process of developing Wi-Flo.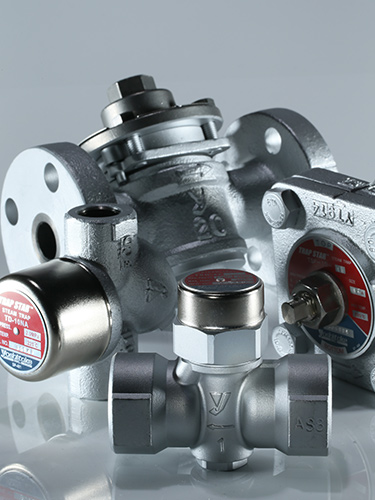 FEATURES #16
Necessity of management of steam trap
Steam trap is a self-actuated valve which can discharge condensate from steam equipment and piping automatically. Energy-saving effect, high production efficiency and protection of piping and equipment can be expected by installing steam traps properly in a steam system.
However, the effect of the installed steam trap does not persist permanently, but can be degraded or lost in terms of time-related deterioration of valve parts, foreign substances stuck and clogging.
Also, Failure frequency of steam traps is not consistent due to usage and operating conditions. It can occur in about two years, or it can be over ten years.
Therefore, it is required to check.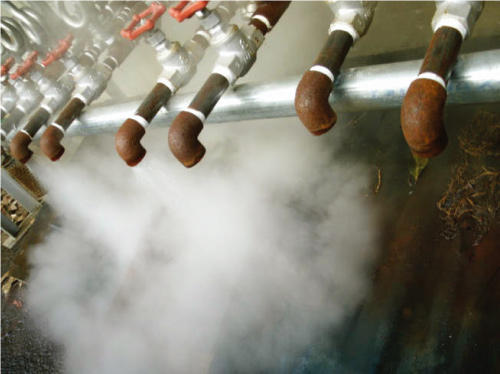 Examples of steam trap's failure: valve parts wear caused due to time-related deterioration.
⇒Leakage of steam=energy loss=loss of fuel expense and CO2
Energy Saving by Wi-Flo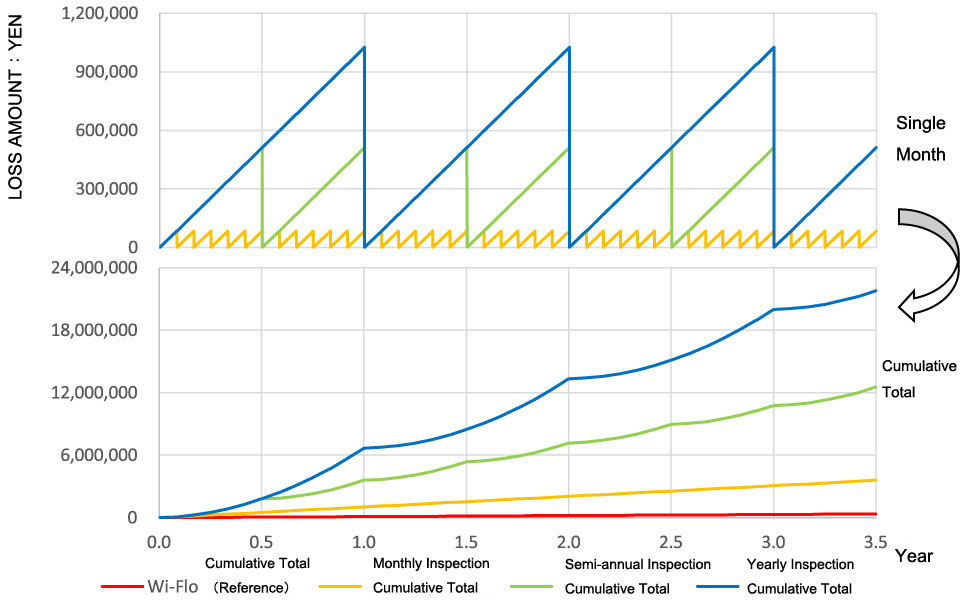 <Calculation condition>
Steam Traps 125 pieces
Failure steam traps per month 1.5 pieces
Steam leakage per steam trap 15kg/hr (medium leakage)
Steam Pressure 1.6MPa
operating time 730 Hours/month
Unit price of steam 5.2 Yen/kg
Boiler fuel LNG
Immediate replacement of all leaked steam traps detected during inspection
Even if the steam traps are inspected every month, following effect is estimated:
It becomes
in 3.5 years
Loss amount: 3,587,220 Yen
Total CO2 emissions: 65 tons

※This calculation is as a guide.
Wi-Flo daily monitoring system (available to set measurement interval) enables to detect the leakage of the steam trap on the same day.
It is the only approach that successfully eliminate waste of energy and unnecessary CO2 emissions.
Steam Trap of Production Equipment Clogged
⇒Condensate discharge is not possible = production is not possible
Energy savings and stable production in steam systems require steam trap control including periodic diagnosis, replacement/repair, and track record to identify the problem.

① Trap survey provided by manufacturer
② Trap survey at site done by person in charge using portable trap steam trap checker STC-1

However, both methods require improvement in terms of energy efficiency, man hours required, technical improvement of onsite personnel, etc.
Steam trap control with the Wi-Flo system is the solution to meet these requirements.



FEATURES #17
Wi-Flo wireless flow monitoring system
According to the diagnosis by the manufacture, timely management of the steam trap cannot be performed, and the effect of energy loss reduction is low.
(1) You want to detect the quality of the steam trap daily, replace the steam trap immediately, and save energy.
(2) You want to manage it on your own (install STC-1), but there are too many steam traps to diagnose with your man-power.
(3) You want to manage it on your own (install STC-1), but there are too many steam traps to manage it on electronic data.
(4) Although you want to manage it on your own (install STC-1), steam traps installed at places such as dangerous locations, high places, small places that cannot reach by the diagnosis of man-power.
If you're concerned about the above, please decide to adopt Yoshitake wireless fluid monitoring system Wi-Flo.
Simple comparison chart of steam trap management method
Diagnosis by manufacturer
Management method
Diagnosis method
◎


Enable to monitor data daily from the PC without having to go around the site.

○


It is possible to monitor all at once by visiting the site and diagnosing one by one with STC-1 and inputting/storing information on a personal computer.

×


List of manufacture reports ( paper ) or enter it manually to make a ledger

Control Accuracy
◎


Understand and analyze such as abnormalities, numerical transitions, histories and frequencies.

△


The data history, when stored on the PC remains.

×


The data does not remain.

Diagnosis man-hours
○


Check on PC screen only

△


5hrs/month=60hrs/year

◎


No man power for person in charge

Energy, CO2 reduction
(=Diagnostic Frequency)
◎


Daily ( able to set measurement interval)

○


Monthly

△


Semi-annual

Trap Selection
○


Not entirely up to the manufacturer = technical improvement of onsite personnel

○


Not entirely up to the manufacturer=Not entirely up to the manufacturer = technical improvement of onsite personnel

×


Up to manufacturer

Repair expenses
○


As conventional

○


As conventional

×


The cost of welding and face to face alignment incurred due to the adopting the proposal of manufacturer.

Maintainability
○
Battery for the end devices require replacement
(Durable time for major parts such as sensors are more than 5 years)
○


Battery for the trap checker require replacement

◎


No equipment management required

Internal report
○


Semi-automatic( format in the system)

△
Create based on historical data
(If the data are stored on the PC)
×


Create based on a report of the manufacture.

Installation Cost
×


PC end device( quantity of steam traps), router, GW, Monitor PC

○


STC-1 1 piece

◎


No equipment installed

Summary
The Wi-Flo system enables automatic monitoring of fluid state from a PC and lowers the man-power required for site patrol, reducing the frequent visit reducing the frequent visit to the site enabling efficient reduction of energy loss. The onsite personnel can improve the skill of selecting and replacing steam traps, without leaving it entirely to the manufacturer. Battery need to be replaced.



It is the only approach that successfully eliminate waste of energy and unnecessary CO2 emissions.

Trap monitoring can be done with 1 unit of STC-1, but the onsite personnel needs to visit the site for diagnosis. Even if the traps are inspected monthly, the failure traps are left as it is for maximum 1 month.Abnormality and numerical values cannot be grasped and analyzed.
Although it does not take many man-hours, it is up to the manufacturer to select traps and report. When replacing the trap, costs for welding and face to face alignment are required. Inspection cycle is normally once every half year or less.